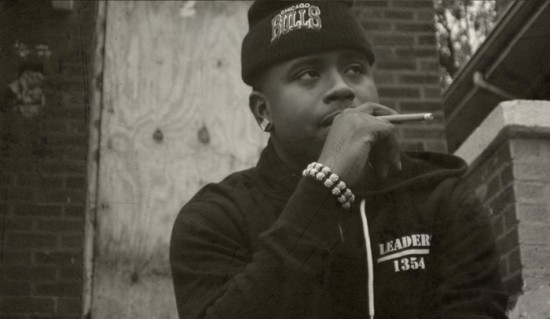 Words by Bradley Troast (@yeldarb367)
Ask any of Giftz's friends what sets him apart and they will say lyricism. "He paints pictures that no one can really match with his lyrical ability." "It's the emphasis on rap. His flow, and punchlines… bar delivery… grittiness…" "What's making [him] stand out is the traditional rap. You're hearing lyrics."
Ask his 19-year-old brother, Kyle, and he won't tell you anything. Kyle has cerebral palsy. He is nonverbal due to brain damage that, among other things, affects muscle control and his oral motor functioning. He has a limited monosyllabic vocabulary, and his brother is arguably the best rapper in Chicago.
Brandon Graham aka Giftz, 22, never thought about it like that before. He's a selfless person and it shows, on a day like October 16, when Giftz makes a joke on Twitter at 7:48am ("Im about to go buy a paper and drink coffee…like a real nigga"), he's just completed a morning routine that very few people his age have to go through.
Depending on their mom's work schedule, occasionally, Brandon has to bathe his brother. He helps him get dressed, feeds him, and puts him on the bus for school.
There's a famous story in the Bible about Jesus washing his disciples' feet. Jesus said, "You do not realize now what I am doing, but later you will understand… Very truly I tell you, no servant is greater than his master, nor is a messenger greater than the one who sent him" (New International Version, John. 13.1-17). Giftz understands this and it makes him one of the most considerate people you will ever meet.
Ask any of Giftz's friends what sets him apart and they will say integrity. "When you listen to him, you get that feeling like, 'I actually believe what he's saying in his music.'" "What he rappin' about is how he livin'… it's not like he fakin' nothin'." "Because I know he's not lying in his music, that's 'hip hop' to me."
If indeed it's all true, Giftz has trafficked cocaine, cooked crack, made thousands of dollars selling drugs, and he might be carrying a gun. "I don't really make the music for people that don't [sell drugs]," he says. "I appreciate them if they listen to it, but that music is basically for motherfuckers that wake up in the morning… take some cocaine and put it in a pot and whip it up, you know what I mean?"
A lot of us don't, but it doesn't seem to matter. Giftz's first solo mixtape, The Lake Effect, was released on Fake Shore Drive on October 24, 2011. It was shared on Twitter over 1000 times. Lake Effect 1.5 was released in August 2012 and has 3200 views on LiveMixtapes.com. The Tom Brady EP has over 6400 views on DatPiff.
More so than artists in any other musical genre, rappers juxtapose integrity with glorification. You want to be truthful and describe real-life experiences, but if those experiences have a negative connotation, like death and drugs, you don't want to glorify them i.e. encourage young people to take the same path. Giftz acknowledges there's a fine line. He doesn't apologize for his actions, but he isn't foolish enough to defend them either. He embraces ambivalence.
Kids like me, the new hustlers, were going through something strange and twisted and had a crazy story to tell. And we needed to hear our story told back to us, so maybe we could start to understand it ourselves…
I wanted to tell stories and boast, to entertain and to dazzle with creative rhymes, but every thing I said had to be rooted in the truth of that experience. I owed it to all the hustlers I met or grew up with who didn't have a voice to tell their own stories – and to myself."
-Jay-Z, Decoded
[CLICK BELOW FOR NEXT PAGE]