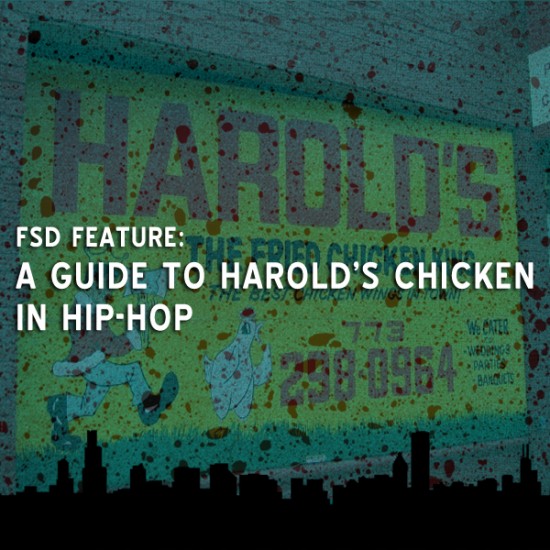 Words by John Walaszek (@JWalaszek)
Harold's Chicken Shack is a Chicago staple. Period. It's an iconic brand that has flourished in the Chicago market for over six decades (that's a lot of dead birds.) The delicious fried chicken shack is located in all corners of the city, and are now popping in other markets across the country such as Dallas, Las Vegas and Atlanta. Harold's has been wearing the crown of Fried Chicken King since 1950 and shows no signs of vacating the throne anytime soon(that is, unless, you're an Uncle Remus supporter.)
With such a long history in the Chi, it's only right that the franchise has been name-checked by many of your favorite rappers from coast to coast, and it's also many out-of-town-rapper's first destination when entering Cook County. Common, Kanye, Chance The Rapper, even Cam'ron have all had affiliations with Harold's.
So why the hip-hop affinity for Harold's? For starters, the chicken is cooked upon order so it's as fresh as any rapper's outfit. Some say it's the mild sauce, which when drizzled on top soaks down into the fries and the piece of white bread at the bottom. Fry it hard, add salt and pepper and just like that your taste buds are driving a Maybach. Wipe your mouth on the curtains.
But it's deeper than rap. We spoke to Demika Carswell, owner of Harold's Chicken Shack #41 (804 W. Washington), and she said this about rap's fascination with Harold's:
"Harold's is one of the oldest black-owned fried chicken establishments in the world that continues to provide fresh, good chicken. Ask Wale. In his song, he lightweight dissed Harold's, but once he tasted our fish he could no longer claim that Harold's was overrated. Not to mention all of the rappers from Chicago have helped spread the word about Harold's from Common, Kanye, Mikkey Halsted and many others.
We continue to do well because we work extremely hard to be consistent by cooking good quality food for our customers to enjoy. Consistency is the key to Harold's success."
So with that out of the way, let's take a look at the different occasions the Chicken King has been referenced in hip-hop with A Guide To Harold's Chicken In Hip-Hop.
[Click Below For Next Page]