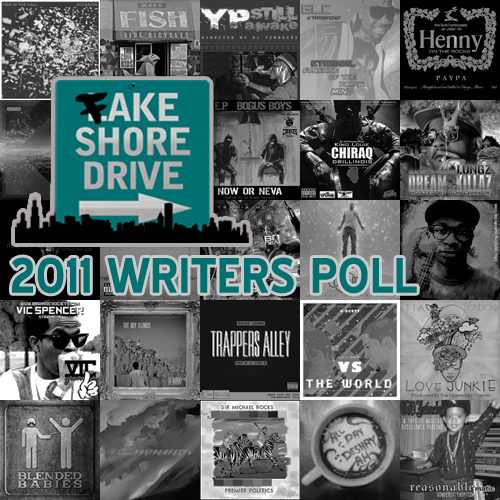 2011 was an interesting year for Chicago hip-hop. Our biggest stars (sans Twista) dropped albums, with Kanye, Common and Lupe all scanning major label barcodes; while next up acts like L.E.P. Bogus Boys and Freddie Gibbs continued their respective paths towards mainstream success. Up and comers like Rockie Fresh, Kids These Days, YP & King Louie blazed trails, and have successfully set the tone for the new generation in 2012. But this is only a small portion of a larger story.
Dozens of local acts made waves in the last calender year, with thousands of songs and hundreds of mixtapes hitting the internets. It would be a huge disservice to our readers not to take a look back and give you guys some critical analysis, correct?
We haven't done any year end coverage since 2008, so we return in a major way with our 2011 Writers Poll. FSD contributors TY KiDD, JSeyf, Pwelbs and Andrew Barber, have collaborated to bring you our individual 15 favorite Chicago rap tracks of the last 365. We all have different tastes, so these individual lists will give you a firsthand look into what we were feeling this year. Well rounded? We like to think so.
So clear your schedule for the day, and read about our favorites below.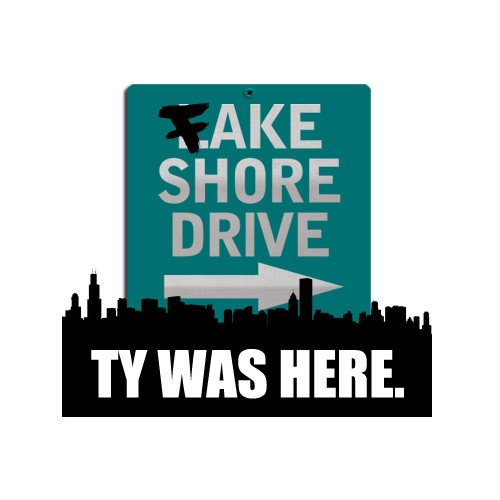 Writer: Ty Kidd (@TYKiDD)
Just as the rest of the country, Chicago and the Midwest hip-hop scene had a pretty great year in 2011. Quality music from your favorite artists and those you may not be too familiar with was provided throughout the year. One thing's for sure — Midwest hip-hop is alive and well. With that said, here's fifteen tracks that were stuck on repeat around my neck of the woods. In no particular order, of course.
L.E.P. Bogus Boys – "Faces"
Album: Now Or Neva
Producer: Roc & Mayne
I loved this joint from the very first time I heard it. Count & Moonie painted a picture of the youth and the violence they face that too many of us are familiar with here in the Chi. Real rap? Indeed. For some reason, I feel like I'm listening to a track from G-Unit's golden days and I like that.
——–
Kidz In The Hall – "Celebrity"
Album: Pregame: A Prelude To Occasion, Vol. 1
Producer: Double-0
Kidz In The Hall provided the masses with some pretty dope music this year. This track in particular makes me want to hit Lake Shore Drive and just cruise. Hey, I'm a sucker for screwed hooks and sample-laced beats.
——–
Common – "Gold"
Album: The Dreamer, The Believer
Producer: No I.D.
Common and No I.D. didn't produce one wack track in 2011. This one just happens to be one of my favorites.
The combination of Com's bars, James Fauntleroy's hook and the Graham Central Station sample flipped by No I.D. is just too great.
——–
King Louie – "Too Cool"
Album: Chiraq, Drillinois
Producer: Hustle Squad Productions
Whether it was the original version or the remix, you couldn't go anywhere in the city and not hear this joint. The video game-inspired backdrop catches you from the moment you hear it and Louie's unique rhyme pattern tops it off. Honestly, it's just too cool.
——–
Tree feat. GLC – "Texas Tea"
Album: Tree feat. The City
Producer: Tree
Tree's one of the people you need to keep an ear out for if you're not doing so already. Tree's production really makes this one for me. Who doesn't love southern-tinged tracks about women and contraband? After hearing this one, I wouldn't mind hearing a full project from Tree and GL.
——–
Nico Segal (of Kids These Days) feat. Vic Mensa – "Clear Eyes"
Album: N/A
Producer: Blended Babies
The Blended Babies are some of my favorite up and coming producers out the Midwest and KTD is definitely one of my favorite groups right now. This joint  (and it's video) captured the smooth summer vibe perfectly and instantly became a favorite of mine. Kids These Days and the Blended Babies together is a combination that works every time.
——–
Big Homie D.O.E. feat. King Louie & YP – "Back Down"
Album: N/A
Producer: LoKey
These beasts from over east never disappoint, whether together or apart. D.O.E. might have been on hiatus for a good portion of the year, but this joint was enough to hold everyone over. This joint surfaced right around the time that people started asking "Who is King Louie?" and they definitely knew who he was after hearing it. All I want for Christmas next year is a group project from these three. Someone make that happen.
——–
Freddie Gibbs – "B.A.N.ned"
Album: Cold Day In Hell
Producer: Cardo
This track is just one of my favorites from CDH. The Sade sample looped by Cardo provided the perfect backdrop for Gangsta Gibbs to do what he does best — rip tracks like there's no tomorrow.
——–
Black Matt – "All Day"
Album: Midwest Living
Producer: DJ Phaded
I feel as though this joint definitely flew under the radar. Matt and the production courtesy of DJ Phaded are a perfect match. New Midwest anthem? Maybe.
——–
Sly Polaroid feat. Mr. Porter – "Time Is Money"
Album: DJ V-Dub's We Affiliated
Producer: Mr. Porter
I'm always hype to hear new joints from Sly, so when this one dropped I nearly lost it. Sly P over production from D-12's Mr. Porter is something I never imagined I would hear, but I'm glad I did. Would more be too much to ask for? It's been too long, Sly.
——–
G-Scott – "Folded"
Album: N/A
Producer: El Schmitty
Hip hop songs with pop or rock samples don't usually fly with me, but this one instantly caught my ear. Being that I actually listen to a lot of rock and that I really like Phoenix's "1901", I was surprised to hear how well Scott pulled it off. If you're intoxicated enough, you just might party inside of a laundromat like Scott does in the video.
——–
Legit – "A N***** In Northface"
Album: Coloring Outside The Lines
Producer: Best Kept Secret
A bit before his project dropped, Legit emailed me a few tracks from it to check out and this was one joint that I couldn't stop playing. Another one of those "real rap" tracks, you know? Definitely a well-crafted song, which was accompanied by a well-crafted video.
——–
Sir Michael Rocks – "Cotton Candy"
Album: 24 Hour Karate School 2
Producer: Ski Beatz
I like when Sir Michael links up with Ski Beatz, but I love this track. Despite the title, there's nothing soft about this one. I just wish there was another verse.
——–
Lupe Fiasco – "Double Burger With Cheese"
Album: Friend Of The People: I Fight Evil
Producer: Justice
Borrowing Justice's "Ohio", Lu takes us back to a few of our favorite films. It took me a while to catch on (we all have slow moments, right?), but I was bit shocked once I did. Guess I didn't expect that from Lu. I'll admit though, I have the urge to watch a few of the films mentioned after listening. Not to mention, there's a pretty cool unofficial video for the track.
——–
Mikkey Halsted – "Another Day In The Ghetto"
Album: N/A
Producer: Tha Bizness
Mikkey has a way of painting pictures wit his verses and this track is no different. I took a stroll with Mikk (listen, rather) and instantly liked what I heard. This is definitely another joint that I believe a lot people slept on.
————————-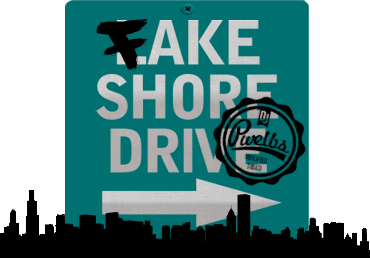 Pwelbs "Top 15" Chicago Records of 2011 (@PWelbs)
Here we have it – in no particular order here are my top 15 personal favorites from Chicago artists in the year 2011. A solid year for Chicago in my books. We saw major releases from Kanye, Lupe and Common. We finally saw the release of The Cool Kids debut album, Rockie Fresh up'd the ante for Rookie of The Year, LEP absolutely exploded, Jeezy chained Gibbs, we met King Louie and we got spoiled by a year of spectacular production from No I.D. and Blended Babies. But, when it's all said and done, Kids These Days may have just set themselves up to be the biggest act out of Chicago for years to come.
—————
Nico Segal & Vic Mensa (of Kids These Days) – Clear Eyes (Prod. by Blended Babies)
Album: N/A
Producer: Blended Babies
I already knew Kids These Days was talented but tracks like this are further proof of how versatile this group can be. With production from Blended Babies, KTD's, Nico Segal (trumpet), wrote a song that serves as the perfect soundtrack for walking the streets of Chicago on a crisp fall morning. With a guest feature from partner in crime and fellow KTD member, Vic Mensa, this one effortlessly lands on my Top 15 of the year.
Sidenote: I've really been enjoying Nico's touch to "Get By" off Asher Roth's latest mixtape, Pabst & Jazz.
Big shout out to Austin Vesely, whose direction with "Clear Eyes" might land it the best music video out of Chicago this year.
Nico Segal & Vic Mensa (of Kids These Days) – Clear Eyes [Music Video]
————-
Rockie Fresh – Duckin N Dodgin feat. Casey Veggies (Prod. by Uncle Dave)
Mixtape: The Otherside: Redux
Producer: Uncle Dave
I definitely kept Rockie Fresh's The Otherside (2010) in rotation well into 2011. Rockie re-released The Otherside as a "Redux" with previously unreleased material (including "Duckin N Dogin") in July of 2011. The golf outing video made this joint that much more fun too. With a XXL Freshmen ballot nomination and Driving 88 (out January 23rd) on the horizon – I can imagine a few Rockie Fresh tracks will land on my 2012 "best-of list", as well.
Rockie Fresh – Duckin N Dodgin feat. Casey Veggies [Music Video]
————-
Jay-Z & Kanye West – Otis (Prod. by Kanye West)
Album: Watch The Throne
Producer: Kanye West
I feel like a shit head putting anything from Watch The Throne (let alone lead single "Otis) on my 'Best of Chicago" list for 2011. But it must be done. "Otis" like Jay's "D.O.A." took several listens to grow on me. It's hard for any track to live up the hype as the lead single to a Jay-Z and Kanye West collaboration album. When it's all said and done – "Otis" kicked off WTT mania and ended up being one of the most fun tracks to revisit off Watch The Throne. A Spike Jonze video full of cut up Maybachs, a Don C snapback and plenty of pyrotechnics was the icing on the cake. The energy Hov and Ye delivered is felt on this one and it shows in the video too. Hey – the track may forever be cemented as "Best Rap Song" of 2011 with a nomination for the 54th Grammy Awards….for what it's worth.
Jay-Z & Kanye West – Otis [Music Video]
——————-
YP – Who I Be (Clap) (Prod. by Xtreme)
Mixtape: Still Awake
Producer: Xtreme
YP kept the pedal to the metal all the way through 2011. YP sounded as comfortable as ever with rhyme after rhyme on "Who I Be (Clap)" off his highly acclaimed Still Awake mixtape. A certified banger with raw production from Xtreme puts this one on my Top 15 of the year. Just clap!
YP – Who I Be (Clap) [Music Video]
—————–
The Cool Kids – Penny Hardaway feat. Ghostface Killah (Prod. by Chuck Inglish)
Album: When Fish Ride Bicycles
Producer: Chuck Inglish
When the tracklist for When Fish Ride Bicycles dropped early – anticipation grew even more for The Cool Kid's long awaited debut album. The thought of Ghostface over Chuck Inglish beats will make any rap fan drool. The album turned out to be good, but it was a song like "Penny Hardaway" that was great. Hearing this song live to a blow-out crowd of fans at Lollapalooza this summer put this as my favorite Cool Kids joint of 2011.
—————–
Jay-Z & Kanye West – Gotta Have It
Album: Watch The Throne
Producer: The Neptunes & Kanye West
Almost every song off WTT is worth noting; but, "Gotta Have It" has continued to stand out in my mind. I'm such a production nerd that a Neptunes and Kanye collaboration on one beat has me begging for more. How these guys managed to flip three separate James Brown samples* into the sounds of a Kung-Fu movie (circa 1975) is beyond me. There may be more obvious choices off WTT but this is my list god damnit!
*James Brown Samples: 'Don't Tell A Lie About Me & I Won't Tell The Truth About You', 'My Thang' and 'People Get Up & Drive Your Funky Soul'
—————–
Pulled Over By The Cops feat. Nate Santos – Authority (Prod. by Blended Babies)
Album: N/A
Producer: Blended Babies
I hope this isn't the last time I write about supergroup Puller Over By The Cops (The Cool Kids, Freddie Gibbs & Chip Tha Ripper.) With rumors of multiple tracks completed and a project in the works – I was hoping we'd see at least another cut from the crew by year's end. Simply put, it seems everyone just got to busy. The Cool Kids put out their solo debut, Gibbs signed to Jeezy and Chip continued his aggressive touring. "Authority" showcased this groups chemistry (plus Blended Babies production) but any future material seems up in the air. One song (well two if you count "Oil Money") is better than zero.
—————–
Album: Hard Times EP (available on iTunes)
Where do I begin? The group appeared in the New York Times and Jay-Z's blog; opened shows for Big Sean, Snoop Dogg and J. Cole; toured the nation (and some of Canada!); and, had perhaps one of the most unexpectedly large crowds at Lollaplooza 2011. Their set was dope, too! "My Days" and "Darling" are fantastic and refreshing but "Summerscent" has more plays in my iTunes than any other track off the Hard Times EP.
The groups debut album Traphouse Rock couldn't come any sooner. The reportedly free album (Save Money!?) is produced by Jeff Tweedy of popular Chicago band Wilco. The albums lead single "Don't Harsh My Mellow" should see the light of day any day now.
Kids These Days – Summerscent [Music Video]
————-
Common – Blue Sky (Prod. by No I.D.) (Additional vocals by Makeba)
Album: The Dream, The Believer
Producer: Prod. by No I.D.
As soon as I saw the title "Blue Sky" my gut told me that No I.D. had sampled Electric Light Orchestra's, "Mr. Blue Sky." The sample reminds me of my early days, crate digging through internet message boards. No I.D. managed to freshen it up for this obvious stand out track off Common's ninth studio album The Dreamer/The Believer. In the end, it might not be the strongest cut off the album but it definitely left me hungry until the album's release.
Common – Blue Sky [Music Video]
—————–
Album: Hard Times EP (available on iTunes)
Yup, more Kids These Days. I've see a lot of the growth in the group since I first interviewed Vic Mensa on my radio show back in August of 2010. He called in live from a Kids These Days practice session. Little did I know how big that band would become. I booked the group a few months later for a Radio DePaul showcase and was blown away by the groups live performance. Again, a few months passed and I found myself at the (sold-out) Hard Times EP release party bobbing my head with hundreds of other fans. I remember the title track "Hard Times" more than others that night and the song continues to be a favorite long after the EPs release. The rhymes, chorus and instrumentation come together quite nicely on this one. A recent Asher Roth "remix" of this song is pretty cool too.
—————–
Cocaine 80s – Summer Madness (Prod. by No I.D.)
Album: The Pursuit EP
Producer: Prod. by No I.D.

When this track first dropped, Andrew described it best, "Every now and again something special will appear that you just can't explain." That couldn't be more true with this one. "Summer Madness" was an obvious favorite and the project's mid-June release couldn't have been more timely. It served as a perfect tune for a hot summer day in the Chi. This also served as a nice appetizer to The Dream, The Believer and was the first Common and No I.D. collab we could sink our teeth into in quite some time.
—————–
Lupe Fiasco – Out My Head feat. Trey Songz (Prod. by Miykal Snoddy)
Album: Lasers
Producer: Miykal Snoddy
Lupe sure had an interesting year. Lasers wasn't Lupe's most critically acclaimed album but it was certainly his most commercially successful album to date. Although – "The Show Goes On" stole the show as a single – "Out of My Head" is the tune I was most fond of after listening to the album front to back. Considering all the label drama, I'm happy an album even dropped.And, I'm happy to see a few gems came out of it too. It's always refreshing to turn on the radio and hear a respectable joint. The fact that it's Chicago bred? Even better.
Lupe Fiasco – Out My Head feat. Trey Songz [Music Video]
—————–
King Louie – He's On Fire (Produced by Chase N Doug)
Album: N/A
Producer: Chase N Doug
Could a track title be more reflective of an individual's success? Louie exploded onto the Chicago scene this year. The humbled rapper, evident from his interview with Ernest Wilkins, shows lot's of promise for 2012. Louie has plenty of material to sift through but this one stuck out to me off the bat. An NBA Hangtime sample? I'm sold. Dope & Shrimp couldn't come any sooner. DRILL!
Check out this Chicago hip-hop article in the Tribune, too!
King Louie – He's On Fire [Music Video]
—————–
Album: Coloring Outside The Lines
Producer: N/A
Legit's Coloring Outside The Lines mixtape is already a high quality project. But the honesty and courage to write about the turmoil surrounding an interracial couple is what makes this one stand out as one of my favorite Chicago tracks this year. I'm really glad the video dropped too, shouts to Young Wonder. Definitely keeping my eyes and ears out for more music from Legit.
Legit – A N**** In Northface [Music Video]
————————-
Sir Michael Rocks – Coochie Crook (Prod. by Ski Beatz)
Album: The Rocks Report
Producer: Ski Beatz
The Rocks Report was one of my favorite Chicago mixtapes to drop this year. This Ski Beatz produced jam is a clear highlight. Sir Michael Rocks is calm, cool and collected. Mikey Rocks sure had one hell of a year, too. Jets fool!
Sir Michael Rocks – Coochie Crook [Music Video]
————————-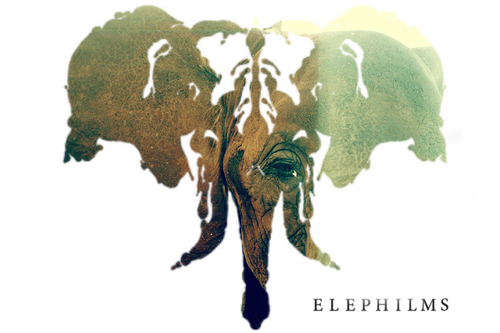 Writer: John Seyf (@Jseyf)
First off, I am very excited to present this list as this was an awesome year for independent hip hop in the Go-Ill. My homie Carlton Mundus kept on pushing me to holler at Drew for a year-end recap because he couldn't keep up with all the heat in 2k11. I agreed, so here you go. My list was originally 45 tracks, I dropped all the major label stuff and kept it Indy because you dont need me to tell you about hot tracks off Watch The Throne if your on this site.
15. D Moses feat YP, Young Deisel – Eastside Crazy
Producer: Tony Baines

Watch the Video Here
Bainesgod brought a nasty beat to the table perfect for this trio to tackle for this Eastside anthem. The streets were definitively feeling this one.
14. Tie: Lennon (of Project Mayhem) – Drug Dealer Chic/Project Mayhem – Dope Party
Producer: The Narcotics, Tye Hill


The Mayhem Machine was in full gear this year. Speaking of gear Fashion Geek Zo, Brian of Sir & Madame and Brooklyn Mike went hammer on the styling in the video. I was at the shoot and they only used about 10% of the wardrobe on set in the video. Crazy! I originally had this tied with Just Chill which recently hit MTV Jams but that technically dropped last year so I choose the equally as dope, Dope party, a vicious track off there most recent mixtape.
13. Brandun Deshay feat Rockie Fresh, Cassie Veggies – Awe Stars
Producer: Brandun Deshay
Nationally Mr Deshay gets his props (XXL Freshman nominee etc) but locally he flys under the radar in my opinion. The youngin's all display bar after bar on this one, I cant even call who outshined who. I played this for DJ Green Lantern, who immediently requested a copy so I know I am not alone in recognizing this banger.
12. Ebone Hoodrich feat. Boo Sledge (of Boo & Gotti) – Lite
Producer: Tony Baines

Watch the Video Here
Bainesgod certainly laces Ebone with top notch production and this is no exception. Ebone does his thing and even got Boo to take time off touring with Lil Wayne to make a cameo. This track and Davy Greenberg produced video goes hard.
11. L.E.P. Bogus Boys feat 2 Chainz – BACK 4 DA SUMMA Producer: HONORABLE C.N.O.T.E

Watch The Video HERE
Tough picking a track off the Low End Professionals latest opus. But when in doubt go with Titty Boi. HONORABLE C.N.O.T.E's stock is rising fast and I love that this hit MTV Jams. Honorable mentions off the tape goes to ZombieLand feat Lupe The Killer and CLICK CLACK feat. DION PRIMO [PROD BY PHOENIX for THE SOUNDKILLERS]— a personal fav.
10. Tie: The Good Doctors feat Sir Micheal Rocks & GLC- You Know The Rules/Sir Michael Rocks f/ Shorty K & Tris J – Too Short Back
Producer: SC, DJ Thunder


Watch the Video Here
SC is one of the best producers, Period. It certainly shows on this banger off the long awaited The Duff. Gangsta L Crisis and Sir Micheal Rocks are at full strength. Props to the duffmasters and Good Doctors for such a good project.
Jetsetter Sir Michael Rocks drops a banger. Just one of many he dropped this year that I coukd have chosen.
9. Tied: Closed Sessions x Da Phedz(Mic Terror, Hollywood Holt, M$M) – Natural High
Producer: Million $ Mano
Album: Closed Sessions Vol. 2
Watch the Video Here
Mic Terror – We Speak No Americano (M$M remix)
Producer: Million $ Mano
Album: N/A

Who? Mano! Million $ Mano laced the Phedz crew with 2 personal favorites of mine before he headed off on the Watch The Throne Tour. Mano is a very underrated producer who is finally starting to get the props he deserves. All the Phedz members kill it as well. Can't wait for there debut album/mixtape in 2012. I have a feeling they are gonna make a big impact this year.
8. BJ The Chicago Kid – Fly Girl Get'em
Producer: Jairus Mozee
Album: N/A

My only R&B pick and for good reason. Bryan James aka BJ The Chicago Kid is head and shoulders above everyone else. He has a truly classic soul, sound. My #1 pick when anyone asks me who I think is the next star out of Chicago. Please do yourself a favor and download for yourself.
7. Juice – I'm Back
Producer: N/A
Album: N/A
6. Chella H – Streetz 2K11 feat Mikkey Halsted, Butta Da Prince, Parkay, Bo Deal , YP, Sly Polaroid, Bump J
Producer: Boogz

5. Rockie Fresh – AC Green
Producer: The Gift
Album: The OtherSide

4. Kids These Days – Clear Eyes
Producer: Blended Babies
Album: N/A

3. Tied: King Louie – Too Cool Remix/ Money Dance
Producer: Hustle Squad, DGainz
Album: N/A, Hardbody


2. Freddie Gibbs feat Young Jeezy – Stripes (Run D.M.C.)
Producer: Prod. by Lil Lody
Album: N/A

1.YP & Rockie Fresh – Insane
Producer: The Gift
Album: N/A

Writer: Andrew Barber (@fakeshoredrive)
Picking 15 Chicago rap tracks that I loved this year was tough. Not because I had a hard time picking 15, but because I honestly could've picked 25. A lot of people gave me the side-eye when I told them we were picking 15:  "WAS THERE EVEN 15 GOOD CHICAGO SONGS THIS YEAR?" Yes, there was a shitload of good hip-hop made this year. Were you not paying attention?I set a few rules for myself when creating my list: I only picked one song per lead artist, meaning an artist could be featured on every song on the list, but only once as the lead. Got it? Also, I picked from both major label and indie acts, but weighed more heavily on the indie cats. The songs are ranked from 15-1, with numero uno being my favorite. And if there was a tie, I included both choices (yeah, I'm allowed to do that). So without further ado…
15. Sno Boy "Ballin' Out"
Producer: N/A
Album: Hardbody

I was introduced to Sno on his group project with King Louie and Boss Woo, the very dope and somewhat overlooked, Hardbody. Much to my surprise, his solo track "Ballin' Out," became one of my favorites of the year, and was an obvious standout on Hardbody. The beat is undeniable in all of it's Lugery glory. Was it Lex, Mike Will, Southside or Lil Lody on the track? I actually don't know who produced the record, and it doesn't matter because it's knocking regardless (props to you if you're reading, though).
I'd hoped Sno would remix it with Louie and Woo, as this should've been a family affair, but it never happened. I suppose it's never too late? Either way, I'm still laughing about Sno saying his diamonds were doing the Dro dance.
This is the sleeper entry for my 15 faves. Expect the unexpected.
Watch The Video [Link]
14. TIE: Sir Michael Rocks "Cell Dope" x The Cool Kids f/ Bun B "Gas Station"
Producer: Tye Hill, Chuck Inglish
Album: Premier Politics, When Fish Ride Bicycles


Sir Michael's "Bat Phone" might've earned the top spot on my best of 2010 list (had I made one), so I'm happy he was able to pop up on my 2011 edition. The dope boy fresh anthem, "Cell Dope," sounds like something that may have been found on a reel in an Oakland, CA recording studio circa 1991. Imagine the look on Mikey's old, white neighbors faces when they see him busting down to this slapper in the hallways of his building. The accompanying video really brought to track to life, in a way visuals rarely do in this day and age.
I had a hard time picking between this record and Michael's "Cell Dope," so they're a dead heat for me (Mikey's "Too Short Back" is an honorable mention, for sure). "Gas Station" is the textbook definition of cruising music. My favorite Chuck beat from WFRB.
Watch The Video [Link]
13. Tree f/ Tone Skeet "P.R.I.D.E."
Producer: Tree
Album: The Tree EP

Project Mayhem's secret weapon, Tree, dropped one of the years best projects, when he unleashed The Tree EP this summer. The short and sweet set showcased his distinct voice and unique production, and won the Cabrini Green-native a slew of new fans. His first single "P.R.I.D.E." featuring Tone Skeet was all the introduction I needed, and was my personal favorite from the project–proving that a dope beat and good rapping are sometimes all you need.
Oh, and in the video, Tree performs in front of a blazing house. Seriously.
Watch The Video [Link]
12. EMP DASME f/ King Louie "Party Like Her (Remix)"
Producer: C-Sick
Album: Lake Shore Living 2

Before Louie hysteria hit its full stride, this infectious joint quietly dropped around the July 4th holiday. Former Red Bull Big Tune winner, C-Sick, crafted the beat that was an instantaneous party starter. It was fun, and ready-made for the summer, but despite my many attempts to pass along to DJs, it didn't pop the way it should have. Perhaps I'm the crazy one?
Watch The Video [Link]
11. Lupe Fiasco "WWJD He'd Prolly LOL Like WTF!!"
Producer: Justice (On'N'On)
Album: Friend of the People: I Fight Evil

Song title of the year? If you're a frequent reader of FSD, then you know my disdain for rappers lazily rappity rapping over industry beats. I mean, how many "Hustle Hard" freestyles do we need? But Lu, he took it all of the way to left field, rapping over a electronic instrumental from Justice. Unorthodox to say the least.
Never one to bite his tongue, Lupe went all of the way in, sarcastically praising Apple products ("Imagine a world where everything starts with an i"), the world's obsession with technology ("a revolutionary way of being alone"), religion ("atheism's cheaper, and accepts Visa") expensive sneakers ("Beaverton hearts with Chinese parts") and McDonald's ("I think they should expand into Health Care"). Plenty of food for thought from Lu–a lot of which went way over people's heads. You should probably listen to this track again. You definitely missed something.
10. Bo Deal f/ Mello G Blanca "Safe Sex" (Prod. Don Lee)
Producer: Don Lee
Album: The Chicago Code 2

The surprise critic favorite of 2011 has to be Brick Squad Bo's "Safe Sex"–a devious ode to poking holes in prophylactics in order to impregnate the other party. This record was championed across the board for it's unique, hilarious and taboo theme. Proof that Bo is a lot more versatile than just a shoot'em up bang bang rapper. The track was perfectly executed, and came with a video that brought the imagery to life. Classic back-and-forth in the vain of Trick Daddy & Trina's "Nann" or Positive K's "I Got A Man."
Watch The Video [Link]
9. GLC f/ Three Six Mafia "Breakin' Down Some Woody"
Producer: Three Six Mafia
Album: Fellowship of the Ism

I know this joint was recorded five or six years ago, but it didn't see the light of day until this summer, so it earns a spot on my list. Hey, it's new to everyone but GLC.
A lot of people thought GL's "Empty Town" collaboration with Yelawolf and Cold Hard was his best record in years, but "Woody" edged it out to make my list. Much like his pairing with the Triple Six years ago on "Clap Your Hands," GL's chemistry with the duo is undeniable. GLC's old soul Midwestern drawl sounds best over DJ Paul and Juicy J's menacing Memphis bounce.
Three Six and French Montana dropped a stellar full length project at the tail end of 2011, so here's to hoping they do the same with Gangsta L. Crisis in 2012.
8. Kidz In The Hall f/ Bun B & David Banner "Pour It Up (P.imp C.up)"
Producer: Double-O
Album: Occasion

Sometime in the summer of 2011, Naledge gave me an early listen of the Kidz'
Occasion
album, and "Pour It Up" was an instant favorite. In fact, it was hard for me to move past the record, and concentrate on the rest of the set. I pleaded for him and Double-O to leak it early (or at least share it with me), so I was elated when they decided to release it as a single. Add a verse from one of my all-time favorites, Bun B, and a high energy 16 from Banner? I was sold. If you're sleeping on the Kidz
Occasion
album, I urge you to wake up.
7. YP "Who I Be (Clap)"
Producer: Xtreme
Album: Still Awake

I first heard YP perform this live at Reggie's this past summer, and I was hooked from jump street. I believe I asked him what it was as soon as he popped off stage, as he didn't have anything like this in his catalog at the time. YP's always been a strong lyricist, and now he's transforming into a songwriter–"Who I Be" was his coming out party. Clap for him.
Watch The Video [Link]
6. Sly Polaroid "The Bad Guy"
Producer: Emmaculate
Album: Honor Me

Sly Polaroid hit the new year like a fist holding a roll of quarters he dropped Honor Me–his best effort since the Goon Squad days–on January 11th, 2011. The project was chock full of quality material, but none better than his cinematic statement, "The Bad Guy." You talk it, while Sly lives it, and on this track he deaded all that cornball goofy shit. Yeah, Sly has the reputation of a bad guy, and on this track he was embracing it–not running from it.After Honor Me, Sly sadly remained quiet for the duration of 2011. Perhaps he's just too real for the rap game?
5. L.E.P. Bogus Boys "25th Hour"
Producer: J.U.S.T.I.C.E. League
Album: Now Or Neva

While, I could've picked a handful of tracks from L.E.P.'s Now Or Neva to include on this list, I believe "25th Hour" best describes the feeling of the project: dark, sinister, and unsettling. On "25th," Count and Moonie are on edge and at their most paranoid–backs against the wall, taking on the entire world. The trials and tribulations of a hustler at the end of his rope. "25th Hour" brings this feeling to life.
Count, Moonie and Dash first played me this record this past summer after a long night of partying. I loved it then, and I feel the same way six months later.
Watch The Video [Link]
4. Freddie Gibbs f/ Sly Polaroid & Freeway "Anything To Survive"
Producer: Beatnick & K-Salaam
Album: Cold Day In Hell

It's hard to describe (at least verbally) why I love this song so much, other than it just feels like Midwest in the Fall. The spirit of the beat, and the way Gangsta Gibbs attacks the track create a vivid visual of falling leaves and turning seasons.
Gibbs' talk of struggle and doing whatever is necessary to survive can resonate with even the most common folk and casual rap fan. Not to mention both Freeway and Sly P bringing their A-game. Just an all around great effort.
Watch The Video [Link]
3. Kanye West & Jay-Z "N***** In Paris"
Producer: Hitboy
Album: Watch The Throne

Predictable? Probably. Played out? Possibly. But worth a spot on this list? Absolutely. Never mind the fact that I saw this performed live close to 40 times, or that it's been played ad nauseum at every club, bar, party, 4H fair and sock hop I visited since August. This shit knocks, period, point blank. The lyrics and chorus were incredibly well written, and weave through your head like an earworm. This record was the sleeping dragon that trumped everything Drake or Wayne dropped this year–a hit of epic proportions.
2. TIE: King Louie "Bandz" x "Get Money (Man Up, Band Up Remix)"
Producer: N/A, Lokey
Album: More Boss Shit

Truth be told, I could do a top 15 Louie songs of 2011 post–but I'll spare you. I just picked my two favorites, as picking one was like picking a favorite child (I have no kids, btw). Anyhoo, as you may have seen in my preview of Louie's Dope & Shrimp, I was turned on to Louie in late-'10, early-'11, and "Bandz" was one of the records that made me a believer. Great uptempo beat, catchy hook, addictive ad-libs–it was the whole package.
Once I finally met Louie and got a chance to vocalize how much I loved this song, he quickly crushed my dreams by informing me that this wasn't his beat. It was lifted from some obscure Future mixtape. 🙁 This could've been a single. And I still can't find the Future song he lifted this from. It doesn't matter, this will forever remain a Louie song to me.
Moving on to "Man Up, Band Up." Yeah the original was dope, but the remix? Well, that was something else entirely. When my peers ask me to share something from this Louie kid they've been hearing about, this is typically the first thing I toss their way. Melodic, smooth, and filled with dope and intricate rapping–he makes it sound so easy. Plus producer Lokey made the best music of his career in 2011, so I have to tip my hat. Louie and his crew had a breakout year in 2011, no question about that.
1. Cocaine 80s f/ Common "Six Ft. Over"
Producer: No I.D.
Album: Ghost Lady

The Cocaine 80s conglomerate should win an award for unexpectedly dropping two of the dopest projects of 2011. Both Ghost Lady and The Pursuit literally dropped out of the sky–no talk, no trailers, no bragging, no warning, no snitching. Common's appearances on both projects were two of my personal favorites of 2011, and I honestly enjoyed "Six Ft. Over" more than anything on The Dreamer, The Believer.
The breakdown on the keys beginning at 2:00 is impeccable, and Dion's production oozes with soul, harmony and emotion. Common feels right at home on this record–comfortable in his own skin, and perfectly playing his role as a b-boy loverman. James Fauntleroy's voice is nothing to sneeze at either, as it basically melts over the beat. Perfectly done all around. Chemistry on 10.
You can check my iTunes library–this one got more spins than anything this past 365.