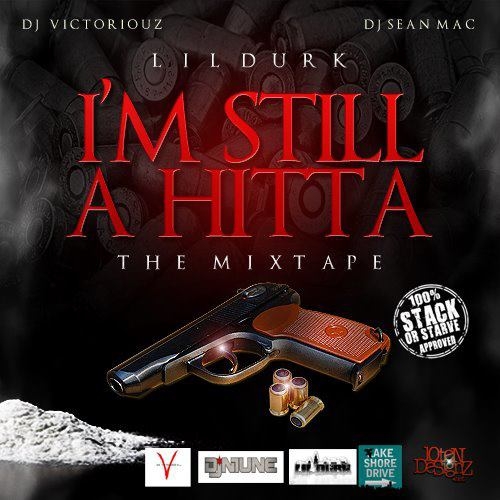 1. Lil Durk – I'm Still A Hitta
As far as drill music is concerned, Durk's I'm Still A Hitta was the most complete project of the pack. Keef and Lou might've had a higher profile, but Durk did the best job of bringing the sound to life. The sinister production from Paris Beuller and Young Chop perfectly paired with Durk's sing-songy and sometimes autotuned flow. It's dark but bouncy, aggressive yet inviting. It's almost like they channeled Beats By The Pound circa '98, except the sound hasn't been overused or exploited — yet.
One thing that's often overlooked in the digital age is album sequencing — and I'm Still A Hitta is pretty much perfect. We're not sure if that's the work of Durk or Victoriouz and Sean Mac, but it flowed impeccably. The project is filled with joints you can ride to, or blast in the club. No skips.
We had a feeling this project was going to be big when a :30 snippet of the "L's Anthem" video hit YouTube — it was enough to make us believers. Durk spent most of his breakout year, 2012, behind bars, but I'm Still A Hitta held us over throughout his sentence and until the release of his follow up Life Ain't No Joke. And while Life Ain't No Joke had its moments, it just wasn't as complete as its predecessor. While the drill scene grabbed most of the watching world's attention in 2012, I'm Still A Hitta serves as its soundtrack, and will be the best way to describe what Chicago rap sounded like in 2012 when looking back 20 years from now.
Favorite Tracks: "L's Anthem," "My N***** Don't Change," "Off The Shits," "Rite Here"